The Airbus 380 has always fascinated me. I've been lucky enough to fly this amazing aircraft before and after each flight, I end up wanting more. So far, I've flown First or Business on the A380 with Korean, China Southern, Thai, and Malaysian. With that said, it's been a goal of mine to try out as many A380 airlines as I can. Well, to say the least, this trip will do just that.
It all started as I was searching for options to get us back to Europe from our mini-vacation in the Philippines. One product that I was dying to try was the Etihad First Class Apartments. As I searched for availability, I was pleasantly surprised to find seats on the Abu Dhabi – London segment. A quick search also yielded positive results for London – Venice the next day. Knowing the limited time I had to score the tickets, I quickly grabbed it without knowing how I would get to Abu Dhabi. I booked the tickets with 40,000 American Airlines points—best use of AA miles ever!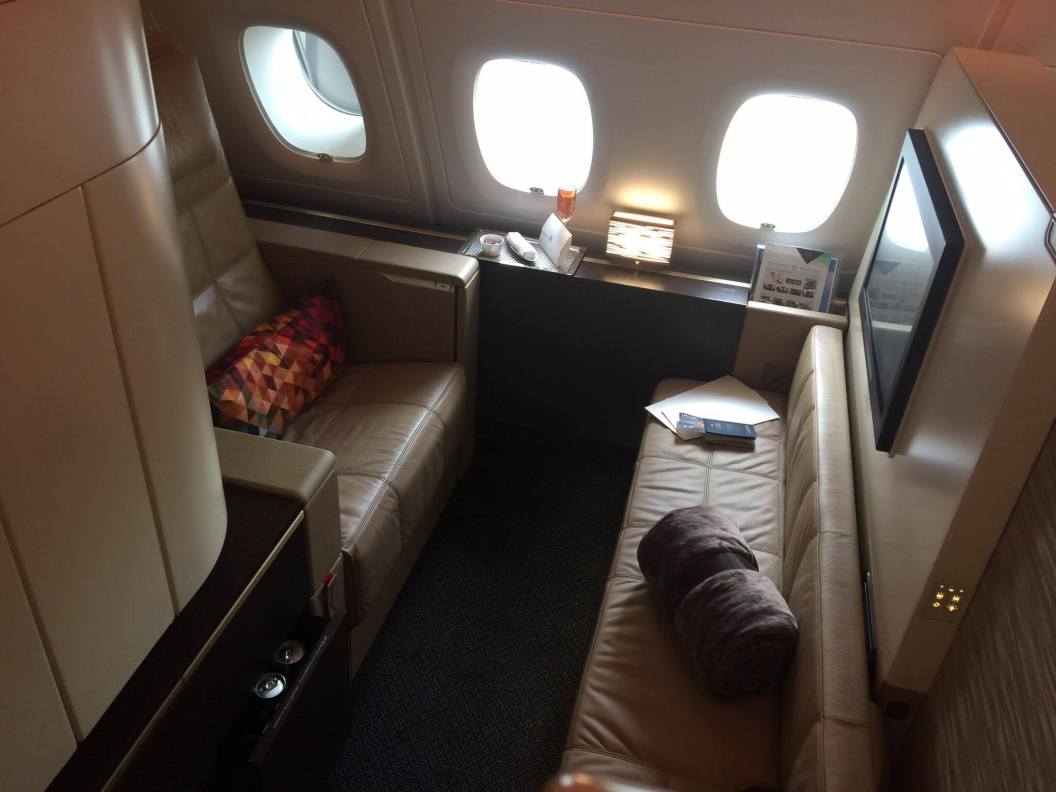 As I was telling my friends about how excited I was for the flight, they decided to join the fun and booked themselves in Business Class on the same flight! We will spend one full day in the UAE and try to see as much as we can. We booked the 6 Emirates in a day tour so we'll see how that goes. We'll then fly to London, rent a car and visit Stonehenge, spend the night in London and fly back to Venice the next day.
Next, I looked at options coming out of Manila and found availability on Manila – Singapore – Hong Kong with a day layover in each country. While we have already been to both places but we were still excited to visit them again and this time with our daughter with us! There was availability in First Class for both legs and the best part about it, the SIN-HKG leg was in Singapore Suites Class in their A380! It was also a chance to visit the ultra-exclusive Private Room in SIN, the Singapore Airlines First Class lounge in their home airport. The flight cost 31,875 Singapore miles each for passenger. I transferred the points from my Citi Thank You account and booked the tickets.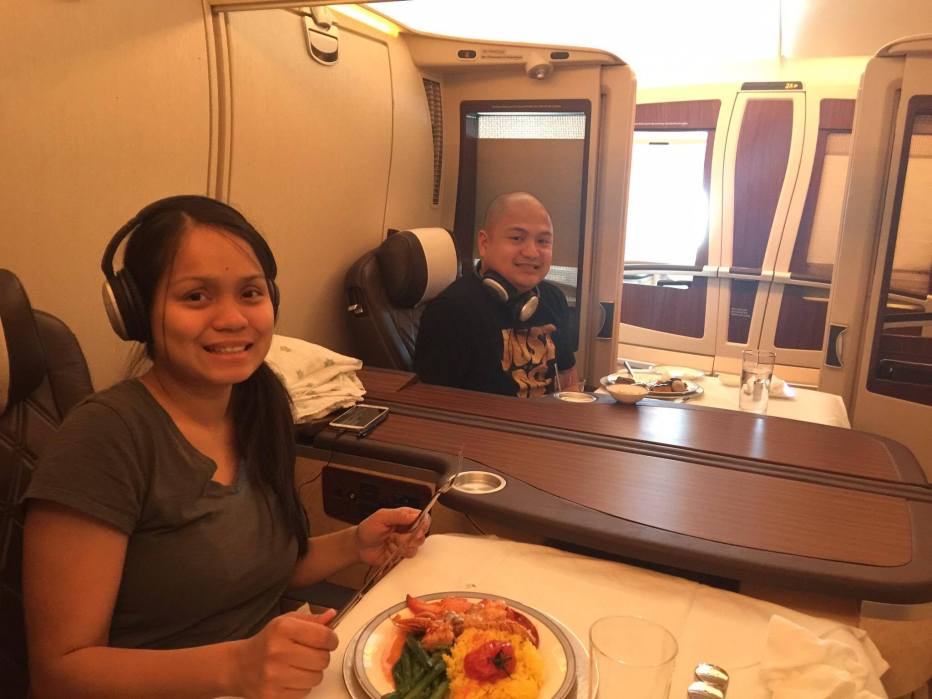 Since I had my Abu Dhabi – London – Venice & Manila – Singapore – Hong Kong legs secured, I researched the best ways to get to Abu Dhabi. Etihad offers First & Business Class passengers free chauffeur service anywhere in the UAE so that meant we could fly and stay in Dubai and we will have free transportation to get to AUH. That opened up our flight options as a lot of other carriers fly to Dubai.
There were plenty of options to get to Dubai but the most obvious choice was the Emirates A380 direct flight. I originally booked this option with 90,000 Qantas miles but got intrigued about possibly trying the Qatar A380 too. After some research, I changed my Emirates flight to the HKG-BKK for 36,000 Qantas miles.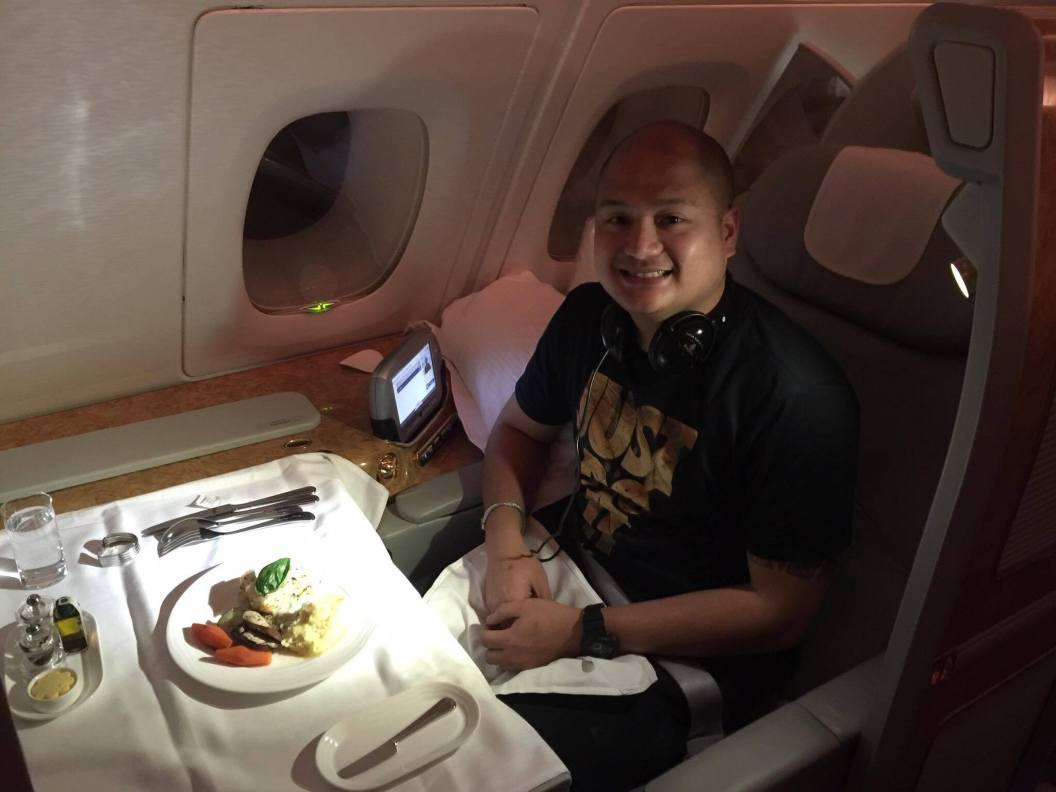 After a quick layover in Bangkok, I would then fly the Qatar A380 on their BKK-DOH flight. I'll then spend some time in the newly opened Al Safwa First Class lounge then continue on and fly DOH-DXB on QR First again. I booked this with 45,000 AA Miles.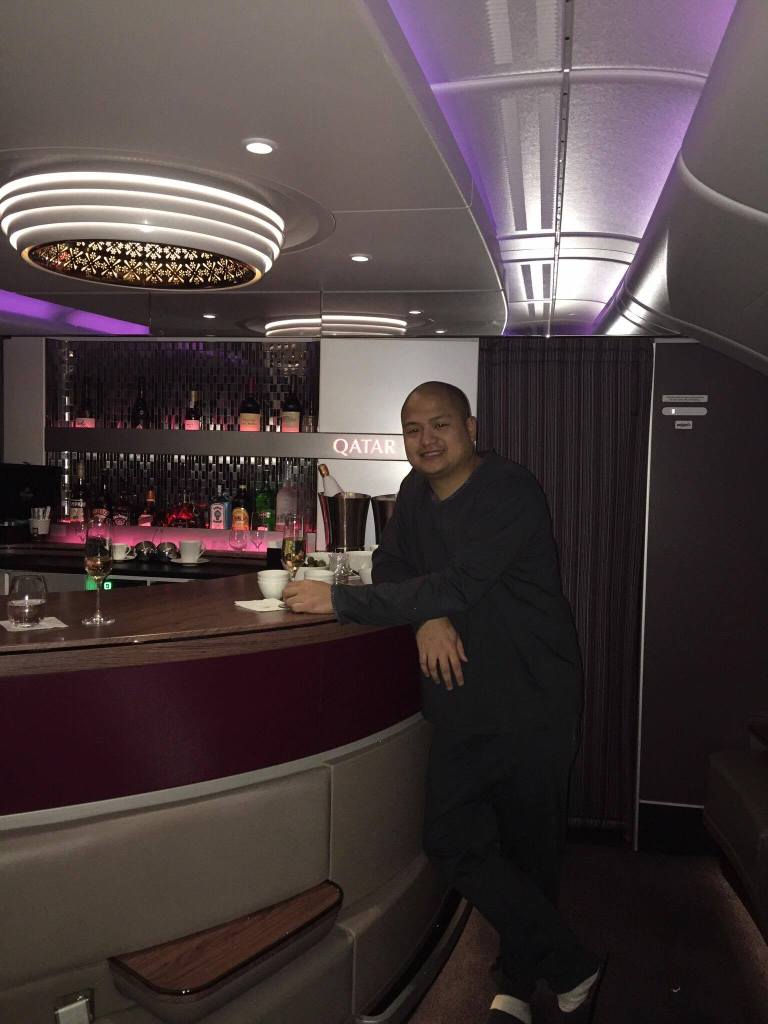 All in all, I used 152,875 miles for each person and around $200 in taxes and fees.
Here's what the final itinerary looks like:
Manila – Singapore (Singapore 777 First Class)
Overnight in Singapore, The Private Room
Singapore – Hong Kong (Singapore A380 First Class Suites)
Day Trip in Hong Kong
Hong Kong – Bangkok (Emirates A380 First Class Suites)
Bangkok – Doha (Qatar A380 First Class)
Al Safwa First Class Lounge
Doha – Dubai (Qatar First Class)
Two nights in Dubai
Etihad Chauffeur Pickup from Dubai – Abu Dhabi / Etihad First Class Lounge
Abu Dhabi – London (Etihad A380 First Class Apartments)
Overnight in London
London – Venice (British Airways Club World)
Not that everything is booked, I still can't believe that I managed to snag all the flights in the days that I wanted! This crazy itinerary is a perfect example of what miles and points can do for you. If I bought the tickets, it would have cost me over $20,000! Sure, I could have booked Economy or Business Class and saved some miles but what's the fun in that? The chance of flying, Singapore Suites, Emirates Suites, Qatar First, and Etihad First Class Apartments consecutively was just too good to pass up. I'll be sure to report back with details of this amazing adventure. Stay tuned!
Guest Contributor: Rambi Francisco