An investment Rambi and I have recently purchased arrived in the mail today — our lovely The North Face technical packs! This purchase has been a long time coming; something that would have been perfect for our Asian Tour in 2012 but we couldn't afford it at the time. These things are not cheap, I'm telling you!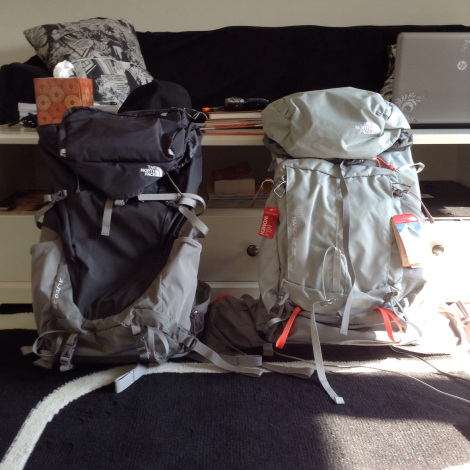 When we travel, Rambi's go-to pack is his black SoC, which carries a maximum of 2,700 cu. in. One drawback is that when it's full, its size rarely passes for a carry-on luggage. One time we had to outwit a Malaysian Air crew so we could sneak the bag on-board, hehe. For light trips or road trips Rambi usually brings his gym bag. And why wouldn't he? It's practical and roomy enough to fit both our things.
We've decided to get technical packs primarily for comfort and convenience.
During days that require running to catch a flight, wheeled luggage just don't work. Obviously.
We avoid check-in luggage as much as we can, and 35L packs are compact enough to stow in overhead cabins. Although I've read that a 55L pack fits well, too.
The most clothes I've fit in a backpack sustained me for two and a half weeks; the challenge was the load I had to lug around. I wanted a technical pack for the padded waist belt since transferring the load from my weak shoulders to my sturdy hips will be less straining for me.
So, why The North Face? I've been a big fan of the brand since my days in uni and it has proven itself a good investment to my mountaineer friends. There are cheaper brands of course, but physically, The North Face designs and features tickle my fancy more than others.
And so we begin with the husband's choice: The Alteo 35.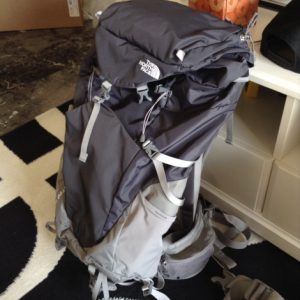 Weighing 3 lbs 2 oz, this pack offers a number of compartments for all your storage needs. Two breathable side pockets, a stretchy compartment in the middle front, and a detachable top lid pocket with rear access, greet you at first glance. Hiya back, sexy. *wink* Straps at the sides allow for adjusting your pack's compactness, while straps at the base let you secure a tent or a sleeping bag with hassle-free accessibility. Watch where you put down your pack if you use that last feature, though. You wouldn't want a wet, dirty sleeping bag, would you? Loops for trek poles are also found at the front of the pack, along with other plastic snaps that secure the pockets.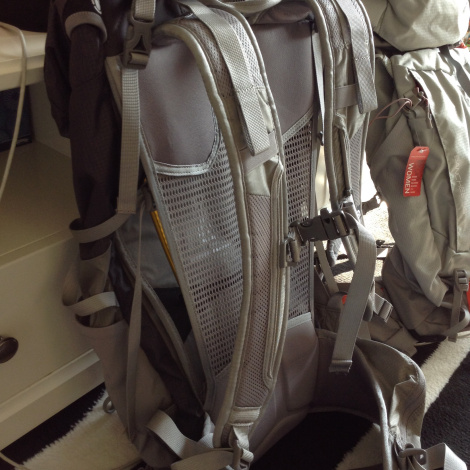 At the back you'll find two snaps on the upper portion, which connects the top lid to the main pack. Right beside these snaps are two subtle holes for hydration pack straws. (Notice the water droplet symbol.) The Alteo's most prominent feature is the wind tunnel, which is basically a void between the pack and your back. (Hey, they rhyme.) The idea is to provide better ventilation, cooling yucky sweaty backs when out and about. To accommodate the tunnel, a plate curves towards the pack which consequently forms an inconvenient bump in the main compartment.
The chest straps can be adjusted higher or lower to fit your needs and doubles as a safety whistle. Nifty, eh?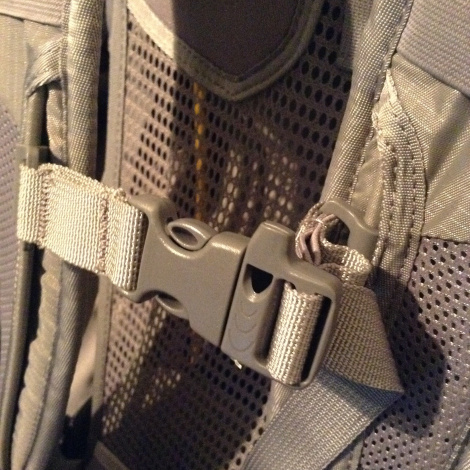 The lumbar support and waste belt are wide and comfortably padded, something the husband's lower back will appreciate. And add check out these ultra convenient belt pockets, one mesh and one nylon fabric. The pockets are wide enough to fit a cellphone or passport. I like that very much.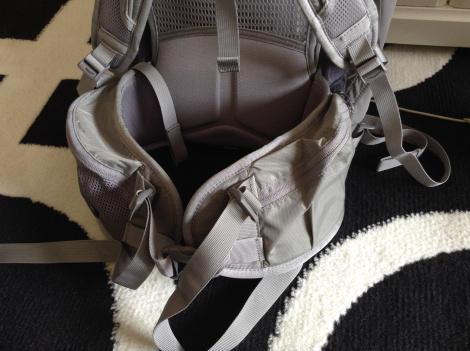 The top lid offers three more pockets: a main pocket, a smaller mesh pocket with a security clasp, and another pocket which stores a fitted rain cover. (JEALOUS. My Banchee doesn't have one.)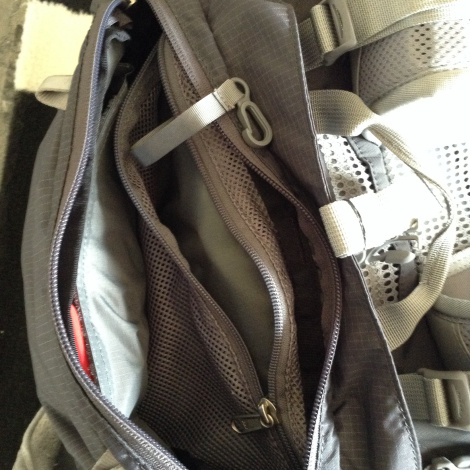 I mentioned earlier that the top lid can be detached from the main pack, and in the event of doing so, a secondary strap secures the main compartment.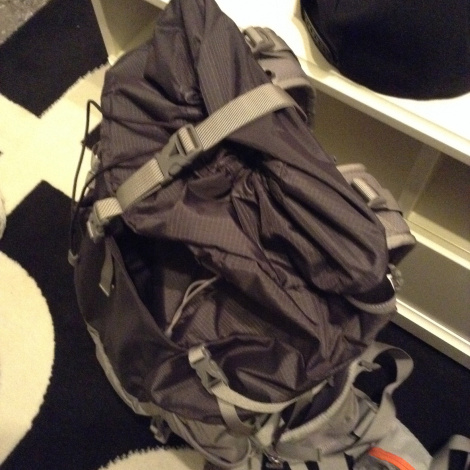 Exploring the interior of the Alteo is just as exciting as the exterior. The inside offers a zipped mesh compartment for added storage, and an elastic compartment intended for your hydration pack is placed at the rear. The main compartment is roomy at the base but gets a little narrow at the midsection thanks to the bump caused by the wind tunnel. Reaching for items at the bottom of the pack gets more challenging thanks to the narrow channel, but then again this is a typical concern with top-loading packs. I have seen newer models of the Alteo 35 with a zipped access on the side for quicker access to items at the bottom. Sadly, our model does not have this feature.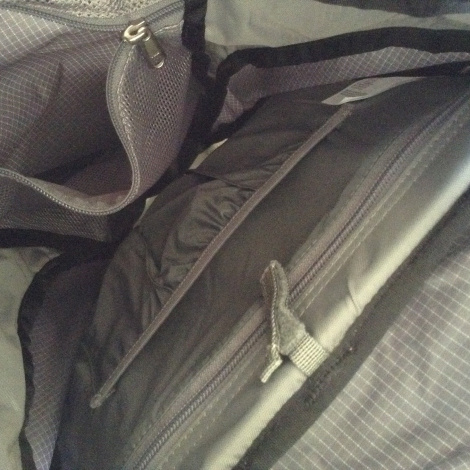 The pack's frame offers stability even on light loads, however with heavier loads my concern is that Rambi might have to compensate for the shift in center of mass caused by the wind tunnel. We'll find out more about this when we test this baby in Monte Carlo this coming weekend. The shoulder straps, lumbar support and waist belt padding hugs Rambi's torso comfortably — a blessing for his sensitive back. With the top lid attached you could actually rest your head on it and fall asleep with your pack on while you're sitting down. It's just downright comfortable. No complaints there.
With all that written, here are my final words: the Alteo 35 is a great-looking pack that offers convenient storage options, and snug body support. Not cheap, but is definitely a good investment. Not too impressed by the wind tunnel technology, but perhaps I should wait until we take this baby out on a hot summer day before I dismiss that feature as irrelevant.
That wraps this post on the Alteo 35 for now. Thanks for reading folks, watch out for my review of my pack of choice: The Banchee 35!
Guest Contributor: Rac