The Philippine Global Explorers (PGE) held its first awards ceremony last 27th December 2022, honouring some of the most outstanding members of the organization for their contributions. Their passion, dedication, and commitment to inspire, serve and help others are an inspiration to us all.
Congratulations to the winners of the 2022 PGE Awards!
PGE Chairman's Award: Dondon Bales Jr.
The PGE Chairman's Award goes to the PGE Officer who has achieved the most impressive contribution and impact in their area of responsibility.
Dondon Bales Jr. has been chosen to be the recipient of the PGE Chairman's award to recognise his exceptional service in organising and implementing vital tasks and projects as the VP of Operations of the PGE since the inception of the organisation. His great eye for detail helped shaped the various processes and programs within the PGE community.
Dondon initiated and implemented the following PGE initiatives under his leadership as the Vice President of Operations: PGE Awards, PGE website, Layag newsletter, Monthly Travel Photo Contest, PGE Social media (Instagram, FB public page, youtube, LinkedIn), 1 Year Anniversary Virtual Event, Facebook photo frame, PGE Press releases to various news outlets, PGE Zoom Calls, Program & Tools for Annual General Meeting & Elections, PGE By-Laws Amendments, PGE Standard Operating Procedures & Guidelines, online Travel Planner, conducted an internal audit.
This is on top of establishing travel networks by representing PGE as a speaker/presenter at the Extraordinary Travel Festival, NomadMania Awards, and the Philippine Travel Exchange (PHITEX) by the Department of Tourism, so he was instrumental in forging PGE's relationship with the travel industry stakeholders which was culminated at the official Philippine book launch of his book Galà: Adventures of the Most Well-Travelled Filipinos. He organized a breakfast meet and greet meeting during the Extraordinary Travel Festival with the PGE delegates and the members of the Swedish Club100 Travel Club and the Danish Travel Club, De Berejstes Klub.
Finally, he supported the Membership Committee being primarily responsible for ensuring eligibility for official membership for the majority of the 53 Associates who were recently inducted as PGE Official Members.
Most Outstanding PGE Member Award: Aimee Paragas
The Most Outstanding PGE Member Award goes to the PGE Official Member (non-Officer) who most exemplifies the PGE Core Values (One Global Community, Responsibility, Respect, Spirit of Adventure, Collaboration, Service).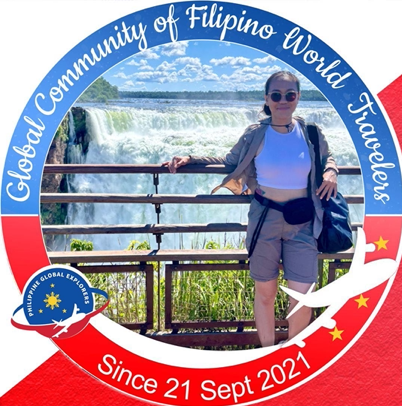 Aimee is the PGE Coordinator for the Middle East Chapter which has 5 official members at the moment. In 2022, she contributed to PGE through the following:
Actively posting in the PGE Facebook group, especially with the "Introduction Thursdays" segment where she writes articles to introduce PGE members and associates.
She is the Editor-in-Chief of Layag, the newly-launched PGE newsletter.
She organised meet-ups for local PGE members as well as those visiting Dubai & Abu Dhabi.
She has collaborated with the international travel community through the following:
By attending the Extraordinary Travel Festival conference in Yerevan, Armenia last Oct 2022
She is active in posting tips and answering travel questions she has knowledge on in the Every Passport Stamp Facebook group and has been recently awarded the ambassador badge
She is based in UAE and has travelled to 4 other countries in 2022: Saudi Arabia, Oman, Philippines, and Armenia. She went to Brazil, Paraguay, Argentina and Antarctica from November to December 2021. She has travelled to 42 TCC countries & territories (31 U.N. countries) and travels only with a Philippine passport.
Most Inspiring Traveler Award: Odette Ricasa
The Most Inspiring Traveler Award goes to the PGE Member or Associate who has inspired many people through their travels.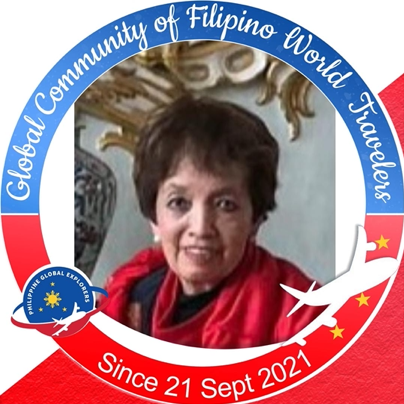 On the 25th of August, 2022, Odette, 77, is the first Filipino to travel to all the 193 UN countries in the world with Kurdistan, Iraq as the last stop. Her achievement caught worldwide media attention where she was featured in the Philippines' ABS-CBN, Inquirer and Kumu; Philippine Times (Australia), Filipino Times (Middle East), Pilipino Express (Canada), NRR TV (Iraq), and the 'Emirates love Philippines' TikTok video of her that went viral. Odette is also the PGE US West Coast Chapter Coordinator. Odette was one of the presenters during the second NomadMania Awards in Nov 2022.
Most Adventurous Explorer Award: Luisa Yu
The Most Adventurous Explorer Award goes to the PGE Member or Associate who has pursued the most astonishing and intrepid travel adventures that is noteworthy.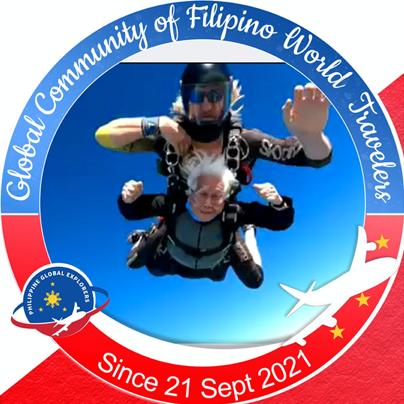 Luisa is unstoppable in her world travels as she visited over 25 countries within 4 continents in 2022 alone. She has done several exciting adventures this year such as sky-diving in Dubai, hiking in The Big Stingy in Madagascar, ballooning, a short hike to Mt Kilimanjaro, hiking to Ecco Cave and horse hiding to a waterfall in Lesotho, a helicopter ride and volcano cave in Reunion island, walking on the most extended bridge suspension in Mauritius, and safari in Tanzania. Not bad for a 78-years old!
Most Progressive Wanderer Award: Pia Montemayor
The Most Progressive Wanderer Award goes to the PGE Member or Associate who has demonstrated the most progression in their travel experience for the year.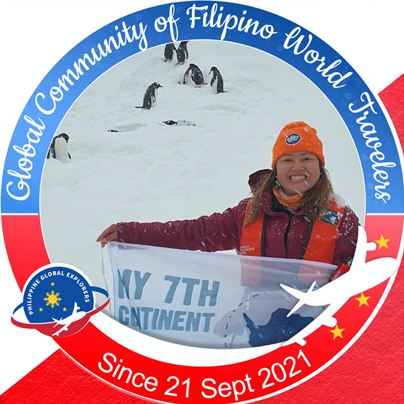 From July of 2022, Pia has visited 39 countries & territories (29 new & 10 repeats) within 5 continents (mostly in Europe) using only the Philippine passport. Pia who used to be based in Dubai, UAE, recently left her career for a sabbatical break and decided to solo travel long term. She has reached her 7th continent (Antarctica) as well as her 100th TCC country & territory this 2022.
These are the countries/territories that Pia visited in 2022:
24 in Europe (Poland, Slovenia, Croatia, Bosnia and Herzegovina, Serbia, Montenegro, Czech Republic, Germany, Netherlands, Austria, France, Italy, Spain, Portugal, Belgium, Monaco, San Marino, Malta, Republic of Cyprus, Romania, Moldova, Bulgaria, North Macedonia, Kosovo)
7 in North/Central America (Mexico, Belize, Guatemala, El Salvador, Honduras, Nicaragua, Costa Rica)
5 in South America (Colombia, Brazil, Uruguay, Argentina, Paraguay)
2 Asia (Abu Dhabi – UAE, Philippines)
She has upcoming trips this December 2022 to Peru and various regions in Argentina such as Patagonia, Mendoza, and Ushuaia.
Most Valuable Volunteer Award: Ana Francisco
The Most Valuable Volunteer Award goes to the PGE Member (non-Officer) or Associate whose PGE volunteering efforts or projects (including meet-ups and trip expeditions) have created the most impact towards achieving the organization's mission, vision, and objectives.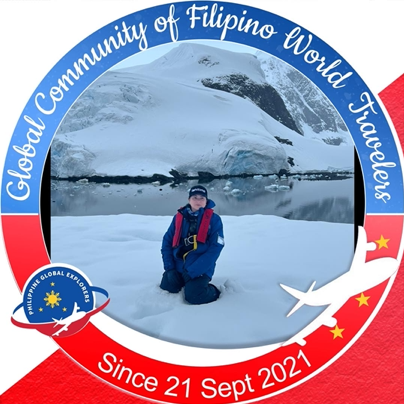 Ana is the PGE Head of Social Media who looks after PGE's Instagram and Facebook public pages. She provides coaching support to the team organizing the PGE Travel Photo contest which utilizes the PGE social media. As a result, the PGE Facebook public page has reached 1,000+ followers while Instagram has 500+ followers (compared to 730 and 112 respectively at the end of 2021). Ana also helped organize the PGE Trip Expedition to Antarctica last Feb 2022 where she was part of the expedition.
Most Impactful Globetrotter Award: Riza Rasco
The Most Impactful Globetrotter Award goes to the PGE Member or Associate whose sustainable and responsible travel had the most positive impact on the environment and the communities they visit.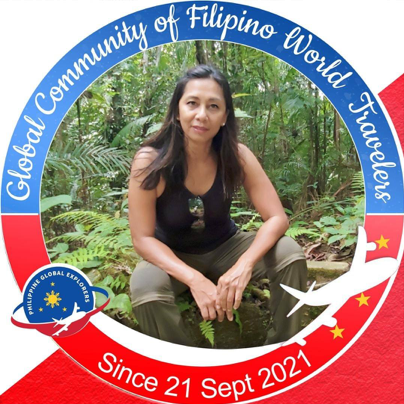 Riza blends in like a local when she travels and she does this by donning traditional women's clothing, and by learning the typical tasks that women carry out within their communities. This allows her to make easy connections as she accentuates the things that are the same or similar and downplays their differences. She also shares a very educational description of the places that she visits on her social media and shares her learnings in conferences such as the Extraordinary Travel Festival as well as in media like The Diarist in June 2022.
Most Active Contributor Award: Aimee Paragas
The Most Active Contributor Award goes to the PGE Member or Associate who has generated the most engagements in the PGE Facebook group.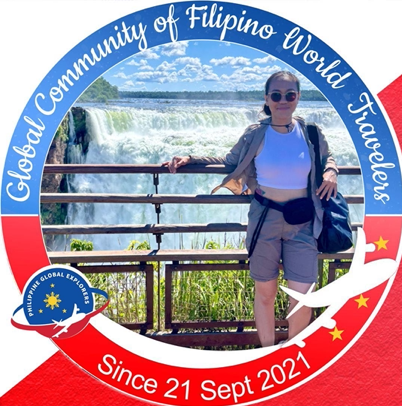 Aimee, the queen of the Introduction Thursdays, has been very active in contributing helpful posts not just on her regular themed segment which has been running for over a year now, but also on other topics and has consistently helped by commenting tips and ideas on other people's travel inquiry. Having been to Antarctica on December 2021, she also served as a source of first-hand information for the PGE group who also went on the same expedition in February of 2022.
Once again, congratulations to all the winners of the 2022 PGE Awards.